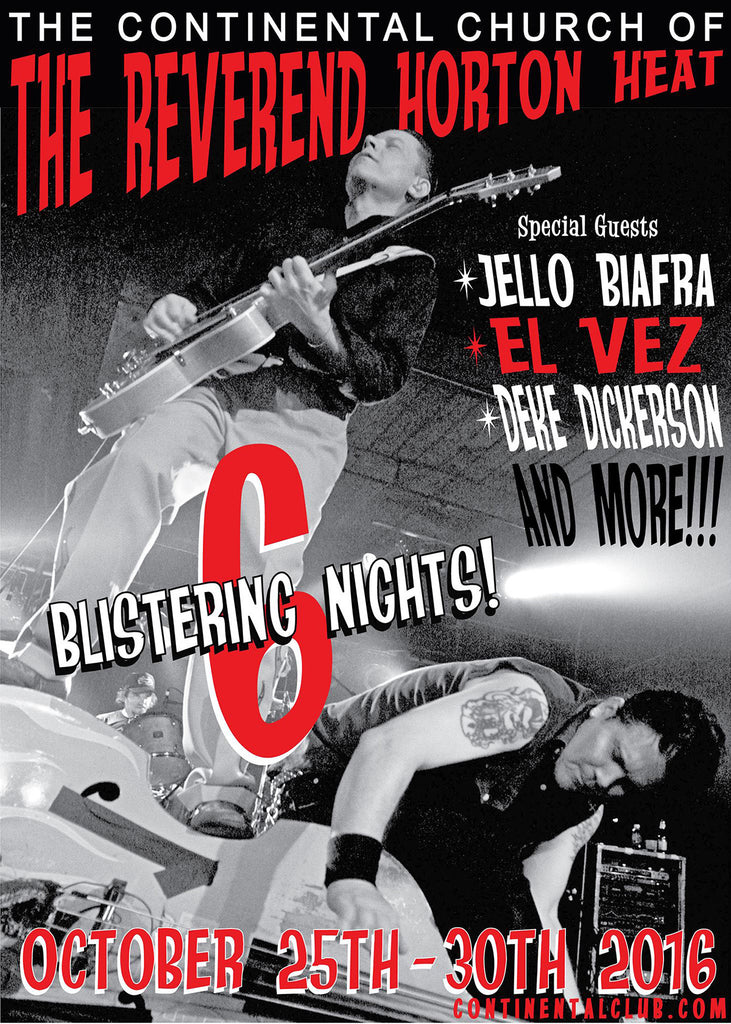 There is never a shortage of things to do in this great city, so it can be hard to ever hone in on just one. Sometimes, however, an event will come up that will take all types of precedent in your life. Commitments will be broken, feelings may get hurt, but you'll be damned to ever miss it. This happens quite regularly for me, so I'm used to the backlash from just about everyone in my circle.
If you've never heard of The Reverend Horton Heat,  then I'm not quite sure what to tell you at this point. Since the late 80's, Jim Heath and his Dallas, Tx based group have been bringing a special blend of rockabilly beach rock fused with just enough country. When I read that the historic Continental Club would be hosting a 6-night event and converting into the Continental Church of The Reverend, I pounced. I was able to attend two nights of sermons, about 4 less than I would have liked (these bills don't pay themselves).
The first night was everything I had hoped it would be, but better. I was even lucky enough to meet stand up bassist Jimbo Wallace right before they brought 'the heat' into the club and clumsily asked him to stop by our shop if he at all had the time (sporting a kick ass Gorilla vs. Shark pearl snap certainly helped my case). Listening to Jimbo talk to me about getting to tour with groups like The Cramps and Motorhead simply made my mind melt. I even ran into a few loyal ZZZ Threadz patrons inside during their set, each of us locking eyes and performing the ever popular 'I see you, you see me' head nod.
As for Jimbo, he came into the shop over that weekend and made his presence felt. I knew his birthday was in just a few days, so I decided to let him pick out any of our bad ass embroidered pearl snaps to make his own. After careful choosing and much deliberation, a decision was made. So if you happen to catch the Reverend Horton Heat at any of their shows across the globe, keep your eyes peeled. You might just catch bassist JIMBO sporting one the finest, most ass-kickingest Posado embroidered pearl snaps you ever did see.