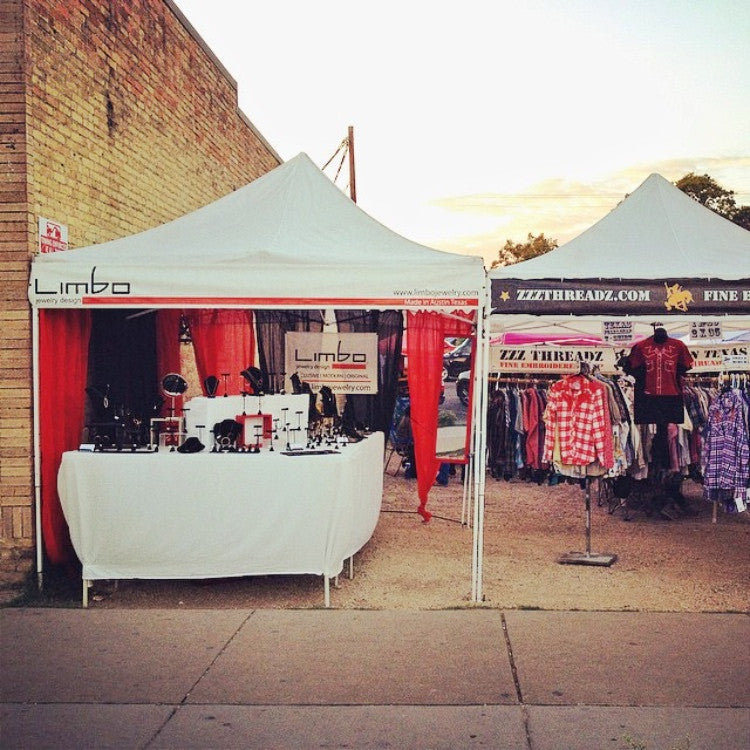 Austin is home to just about anything and everything locally made and sourced. Like many cities across the nation, people here appreciate hard work that is done by folks they know and products they trust. On any given week, there is a plethora of markets where local artists can set up a tent and make a name for themselves. One of the longest standing, and most popular is the Artist Market on South Congress. Every first Thursday of the month, as well as every Saturday (year round), you can walk up and down the strip and fall in love with all types of work whether it be brand spanking new, or up-cycled from its original purpose into something totally different.
Tucked away in the Vespaio parking lot, alongside South Congress books (and some badass embroidery loving neighbors) you'll find all types of beautifully crafted jewelry, art and other nick-nacks to make your day. The market has been managed by the dynamic duo of Gretchen Grimm and Warren Sawyer, who also operate their own booth in the market under their brand Black and Bluebird Studios for a number of years now and I don't think you could find two lovelier folks to man the operation. Take a break from the air conditioned storefronts to truly appreciate what it is these merchants from near and far have brought to impress us all.
From pipes and papers (for those who partake), to hand crafted earrings, to the Illuminidol candle tent, it's been made far too easy to spend your hard earned money on items that have been worked on tediously by their creators. Now in case you can't make it to see for yourself, don't you worry. At Triple Z Threadz, we try to keep things as close to home as humanly possible. We are always looking for new local talent to put on display, and Austin never disappoints in that department. You'll always find a good number of these same local artists on our shelves, and we wouldn't want it any other way.