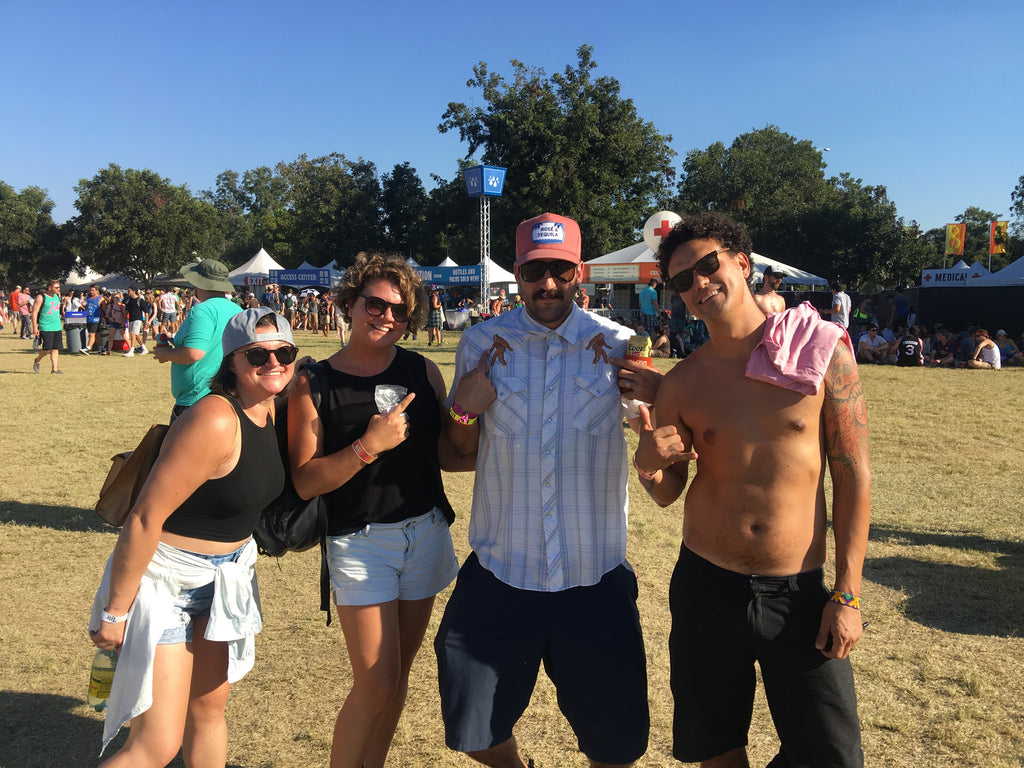 It's that magical time of year once again, folks. When thousands of festival lovers flock to our city to soak up as much as they possibly can from the annual Austin City Limits. For many, it is an annual tradition that acts as their getaway from the real world into a euphoric blend of world-class barbeque and live music. For countless others, though, it will be their first taste of this vibrant city we call home. Travelling anywhere can be a very daunting, especially if you don't know the ins and outs of what a city has to offer.
From music outside of the Zilker Park festival grounds, to all the great sights and food Austin has to offer, it can be overwhelming to decide on what's best. Well have no fear! Triple Z Threadz has comprised a list of some of the best of the best to do while in town for the event.
Now a great place to start might be on the festival grounds themselves. Zilker Park has long been known to be one of the city's most beloved green spaces. When it isn't hosting various events into the tens of thousands, it's where many folks go to unwind from their busy weeks, whether it be with a Frisbee, volleyball, or just laid up under a tree with a good book. Every inch of the 350-acre plot will be utilized to ensure that all available space will be accounted for, whether it be food truck, music stage, or porto-potty. If you happen to arrive in town a day or two early, take advantage of the scenery before it's overrun with people and cars. Not to mention the neighboring Barton Springs (weather permitting of course) and Lady Bird Lake parks. There is far too much green space around this beautiful city to not take advantage of a day-hike whenever possible.
Once you settle in, a great place to explore would have to be the South Congress, or SoCo District, as its known. A plethora of shops, food and sights make it one of the most desirable areas in the city. Enjoy a signature 'Laura Palmer' from Jo's Coffee while you snap a picture in front of the infamous 'I Love You So Much' mural. Grab a large pie from Home Slice, since it's the best slice of pizza you will find outside of New York City. If you're feeling more beefy, get on line at HopDoddy and drool for the duration of your stay while being lost in their mesmerizing burgers. Walk into one of the many shops that offer unique takes on local hand crafted art and clothing. That of course, is where we come in.
Located in the heart of SoCo, you'll find a happy little space called Triple Z Threadz. Our focus is always on our badass embroidered vintage shirts, but we offer so much more. The artists we consign with are almost entirely comprised of local merchants who we simply cannot live without. Did you mention needing a new desk plate that exclaims, "MAKE TODAY YOUR BITCH"? Good, we got that. Have some bad vibes in that new apartment? No need to fret,  a Dolly Parton themed Illuminidol candle will ward off any and ALL bad spirits. My personal favorites would also include the wall of beautifully tiny succulents from Potigy, as well the hilarious, hand-crafted magnets from our favorite R-Rated artist, Kill Taupe.  Whether we're listening to some good ole Willie, or bumping to some funky Rick James, its hard not to feel welcome. If you don't end up spending your whole day with us (we know you want to), there is still plenty to see and do. Venture into Big Top Candy for some olde time soda, or Monkey See Monkey Do for your fill of retro robots and all things funny. It's a trip down memory lane that very few could turn down. By the time you finish your trip down South Congress, it should be very hard to walk between the shopping bags, and the grease running down your forearms from all that damn good food.
My most important piece of DON'T advice would have to be this simple message, don't lose sight of where you are. Don't lose your sense of patience and understanding when it comes to things like traffic and long waits at any destination around Austin. Don't take our beautiful city for granted, help keep it clean and make your impact on it a minimal one. Don't be the rude asshole you are every other day of the year, I swear you won't regret it. Everyone came to have the same great time, so working at it together will always have a lasting impact on the memories made. Walk softly, listen closely and visually soak up as much as your brain will allow. If you can't manage these things, you'll always have your friends down at Triple Z to remind you of just how easy it can be.
by Matthew Meade